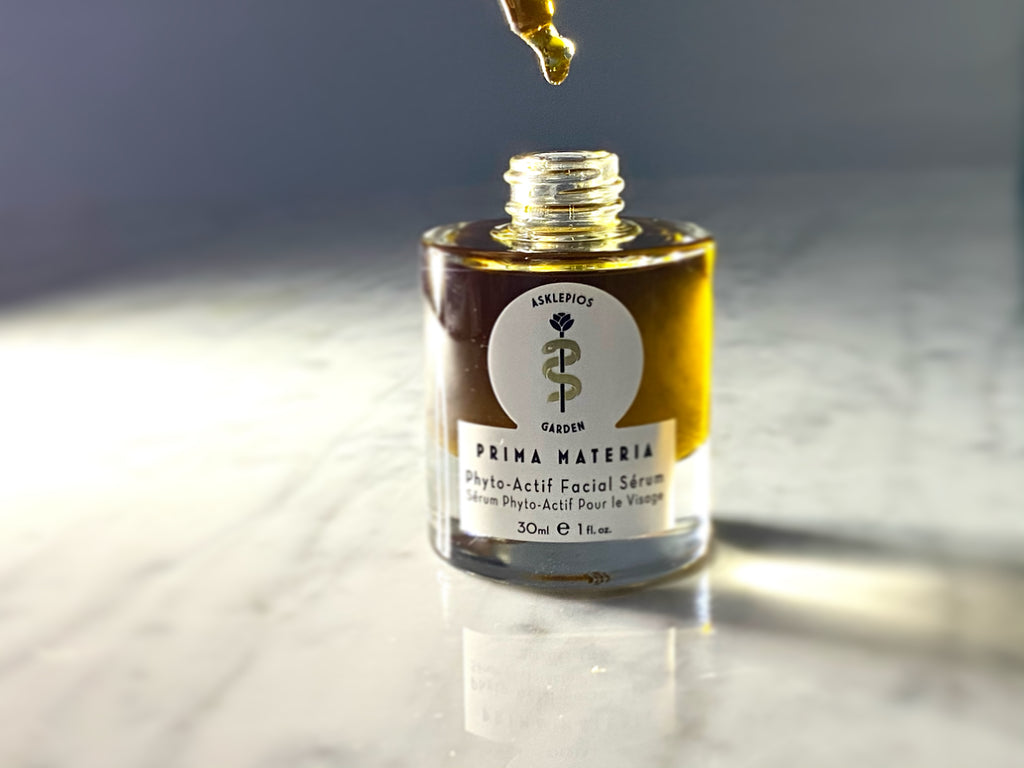 This fast absorbing Phyto-Actif Facial Serum is nutrient packed, yet light-weight. It has anti-inflammatory, balancing, clarifying and collagen boosting benefits and is suitable for all skin types.
PRIMA MATERIA
contains a curated list of nutrient rich hero ingredients:
✨
Borage Seed Oil
is the richest natural known source of Gamma-Linolenic Acid (GLA), as well as containing vitamins A and C, niacin, thiamin, vitamin B. Borage seed oil is a rich moisturizer that can hydrate dry skin to healthy moisture levels, and help maintain a moisture barrier for the skin.
✨
Sea Buckthorn Oil
- A super charged omega rich oil, containing the entire 3, 6, 9, and rare rare omega 7 oil. Deeply nourishing and prized for centuries.
✨
Jojoba Oil
is abundant in important vitamins and minerals, including Vitamins E and B-complex, zinc, copper, selenium, chromium and iodine. Jojoba oil restores the natural balance of the skin by bringing in moisture and hydration.
✨
Pomegranate Seed Oil
is rich in antioxidants and polyphenols that give the oil natural protection qualities & supports cell regeneration. Pomegranate oil repairs skin, and effectively reduces and prevents wrinkles in the epidermis. It has antimicrobial properties & is an anti-inflammatory agent. It has superior moisturizing ability, nourishing and softening skin.
✨
Pumpkin Seed Oil
is rich in vitamin E, zinc, omega 3- and 6- fatty acids as well as antioxidants;  therefore, it has tremendous benefits for the skin in terms of retaining moisture, fighting free radicals and maintaining a youthful appearance.
✨
Rosehip Seed Oil
contains a wealth of essential fatty acids, including linoleic and linolenic acid. The skin also easily absorbs the oil, allowing its antioxidants to travel deep into the skin's layers. That's because rosehip oil is high in vitamins A and C. Vitamin A, or retinol, encourages skin cell turnover.
Continue reading